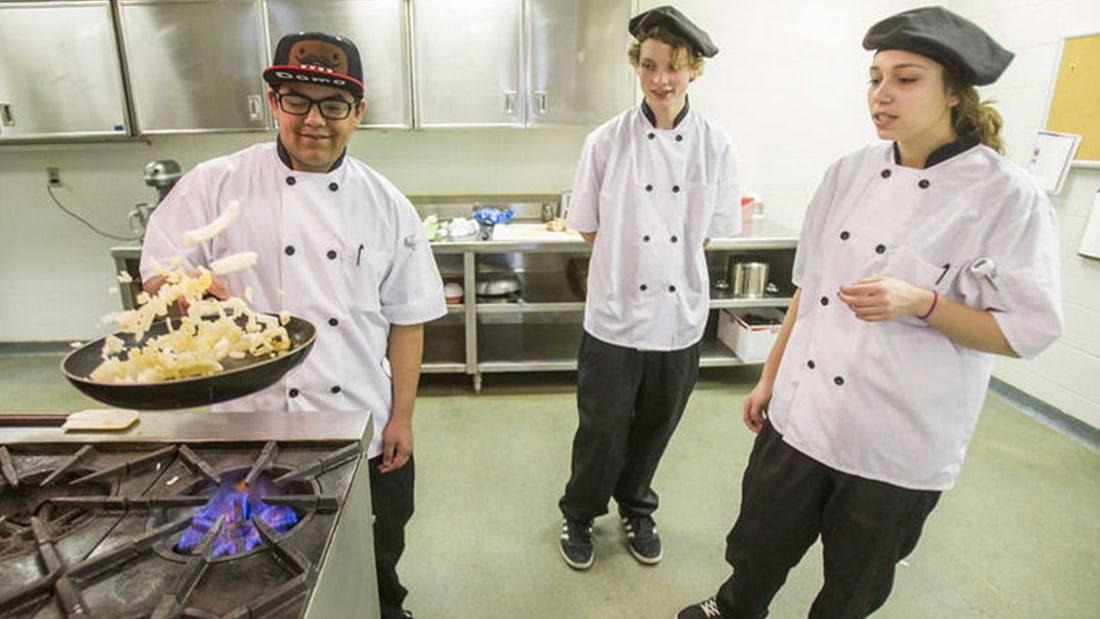 March 14, 2016
Crossing Custom Catering serves up boxed lunches, caters events
SOUTH BEND — From writing a business plan to making decisions about operations and production, a lot goes into running a business, even a low-risk microbusiness.
A group of former high school dropouts from The Crossing Educational Center is doing all of those things and more as part of a new venture called Crossing Custom Catering.
And, they have a new home in the kitchen and cafeteria of the former Madison Center for Children building on Niles Avenue.
The students meet with chef Randy Ziolkowski every other day to learn life skills and culinary skills and to run their business.
They get elective credit for the experience, along with marketable knowledge and skills.
On the days they don't have culinary class, they go to The Crossing, a private, faith-based alternative school in downtown South Bend, to do online coursework toward their high school diplomas.
J.T. Hooks, regional administrator for the South Bend campus of The Crossing, said the added component of a job training program, or in the case of the culinary program, a microbusiness, keeps students motivated to continue showing up for the self-paced general education part of the program.
"It's a big push for what we're doing," Hooks said. "Nowadays, you need more than a diploma. You need job training."
The microbusiness concept isn't new to The Crossing, though the culinary program just began in a restaurant in Bremen in October. By April 1, Ziolkowski said, the kitchen should be up and running in South Bend.
Julia Orr, a Crossing student, said she had virtually no experience in the kitchen before enrolling in the culinary program here.
She said she's learned knife skills and ways to be creative with limited ingredients in the kitchen.
And, she said she's learned, "that school is more important than anything."
Silas Bolen, another student, said he enjoys the culinary program because he's able to learn new skills without being required to "sit in a chair all day."
Students, who also get to cook and eat lunch every day they come to culinary class, produce five types of boxed lunches as part of their microbusiness. Ordered in advance, they can be delivered onsite for business meetings or events.
Crossing Custom Catering has also catered holiday parties and banquets.
In order to keep the business manageable, Ziolkowski said, CCC doesn't cater public events, though he hopes the cafeteria space in the new location can eventually be opened up to serve the other businesses in the old Madison Center for Children building, which is owned now by developer Dave Mathews.
The revenue generated by the catering microbusiness, as is the case with The Crossing's other various microbusinesses across the state, goes back to the private school.
In Indiana, 1,200 students attend The Crossing at a variety of campuses.
About 130 students are enrolled at The Crossing in South Bend. The majority of them come via enrolling in a public school that partners with The Crossing and shares the student's state tuition support with it. Some attend on vouchers and others get scholarships paid for by donors.
South Bend schools partnered with The Crossing until about three years ago when some officials there said they preferred to serve at-risk students at the district's own alternative school.
At the time, Superintendent Carole Schmidt questioned how successful The Crossing students from South Bend had been.
Hooks said 22 students graduated from The Crossing in South Bend last school year and a total of 29 are on track to do so this school year.
"These are 29 students," he said, "who would have otherwise slipped through the cracks."
As for the culinary program, Ziolkowski said, he tries to instill more than cooking skills into students.
"The goal," he said, "is to get them job ready, trained at our pace and their pace."
The students, all of whom have been or are at risk, also need to be taught soft skills. And to learn to have confidence in their own abilities.
Brandon Reyes, a culinary student, said he had a great time serving the cranberry, apple and brie-stuffed chicken breasts and fire-roasted sweet potatoes he and his culinary colleagues made for a recent banquet at The Brick in South Bend.
"It felt good," he said, smiling. "Everyone kept saying how good it was."
To see more
Check out a video of The Crossing culinary students cooking in their new kitchen at the old Madison Center for Children in downtown South Bend at southbendtribune.com.