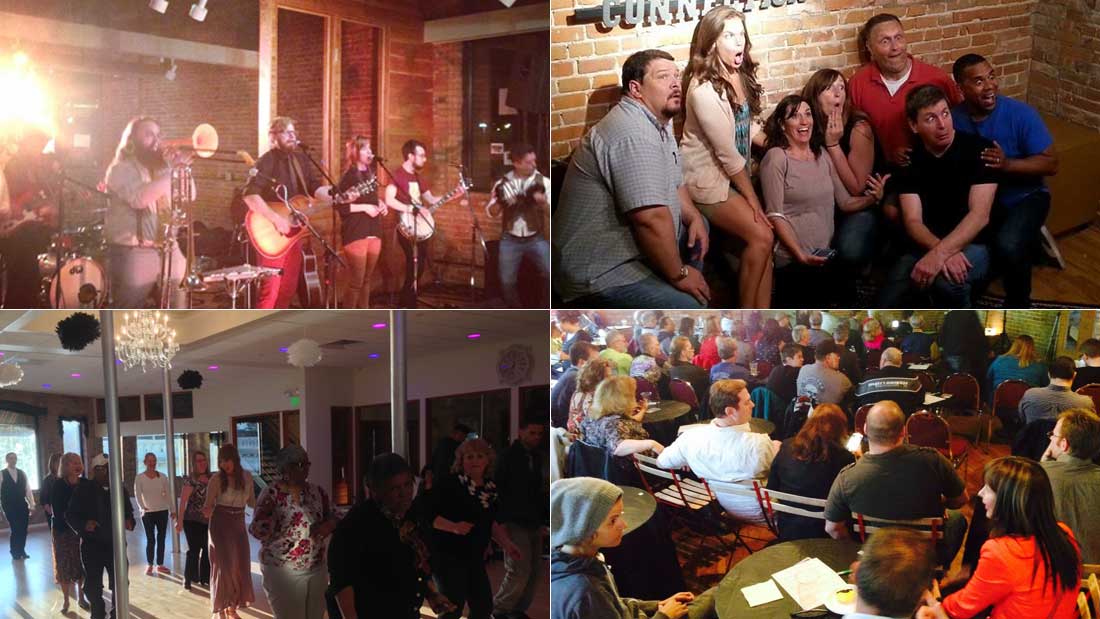 June 9, 2014
East Bank Challenge
2 Months of free food, drinks, comedy shows and dance lessons
We love South Bend! This summer there are  significant construction projects happening in the East Bank. Jefferson Boulevard is getting a pedestrian friendly street improvement.  This will take several months.  We want to help our locally owned businesses in the neighborhood get through the construction challenges.  To do this, Matthews, LLC is sponsoring a competition called The East Bank Challenge – encouraging the Michiana community to make a trip downtown and to explore local businesses in the East Bank.
The Challenge involves completing five tasks: Taking dance classes, eating at The Emporium, visiting local shops, and attending an event at Suite 11. Matthews, LLC will then pay out a $200 cash price to ten competitors who win The Challenge!



How to play:
East Bank Ultimate Challenge
July 19th, 2014 10am – 1pm
East Bank Ultimate Challenge is a one day fun-filled adventure to promote recreation, the arts, and local businesses in the East Bank Village, Howard Park neighborhood. Teams of 4 compete in creative challenges and location based puzzles to win $1000 in cash and prizes. This inaugural event is unique because of its integration with social media, giving participating businesses and organizations maximum exposure and attracting new people to this growing arts district. Teams will discover hidden gems in the East Bank, and their own talents as they solve and complete dozens of one-of-a kind activities.
The Ultimate Challenge is a grassroots effort to support the East Bank, as part of the broader East Bank Challenge, while construction is underway along Jefferson for the Smart Streets initiative. Matthews, LLC is sponsoring the East Bank Challenge competition June 16-August 16 encouraging the Michiana community to make the trip downtown to dine, shop, and play in the East Bank. Sponsors of the one day Ultimate Challenge include Matthews, LLC, Ignite Michiana and the Club: Michiana.
Registration is free and teams can sign up at using the link: via Eventbrite
Everyone is encouraged to connect with the event via the Facebook event page:
https://www.facebook.com/events/271943062989779/
For more information contact Willow Wetherall 574-360-4337 or [email protected]
2 Month Challenge
Dates: June 16, 2014 to August 16, 2014
Register with the form at the bottom of this webpage.  Follow Matthews, LLC on social media (twitter and Facebook).








Sign up form:

Rules of Engagement
Participate by filling out the form above, and then make a PUBLIC post on YOUR wall with #MatthewsEBC in the body of the text while participating in various challenge activities.  Activities include visiting local shops, eating at restaurants, attending comedy shows and dance classes, playing in parks, etc.  There are three ways to win:
1x First Prize $200: Quickest person to reach 100 points.
4x Most Points $200: The top four point earners on August 16th will win $200 each.  Earn those bonus points!
East Bank Challenge One Day Competition: $1,000 awarded to the top five winners ($200/each) of the EBC One Day Competition (details TBD)
| | | |
| --- | --- | --- |
| Category | Max Points | Points / Visit |
| Eat | 30 | 2 |
| Shop | 20 | 1 |
| Play | 20 | 2 |
| Dance & Laugh | 30 | 2 |
| Total: | 100 | |
| Bonus: | ?? | 1-5 |
Where to go:
Eat
Emporium Restaurant
Barnaby's
The View
Purple Porch Co-Op
Macri's & Carmela's
Corby's Irish Pub
Shop
Erasmus Bookstore
Ali On The Boulevard
The Mole Hole
Michiana Lock & Key
Rubens Dry Cleaners
Purple Porch Co-Op
A Single Rose Floral Design
Just Goods
7-Eleven
Access Imprinted Sportswear
Buttons & Bows
Crimmins Carpet Service
Inspire Me! Boutique
Junk Evolution & Carpenter Gothic
Marigolds
Piser Design
Radecki Galleries
Beehive Salon
Boulangers Barberie
CircaArts Gallery
Concrete Haus
Fire Arts
LaSalle Body Shop
Studio C Hair Salon
Play
Howard Park
Viewing Park
Seitz Park
East Race Waterway
Island Park
St. Joseph River
Dance & Laugh
Dancehipology
Downtown Comedy Connection