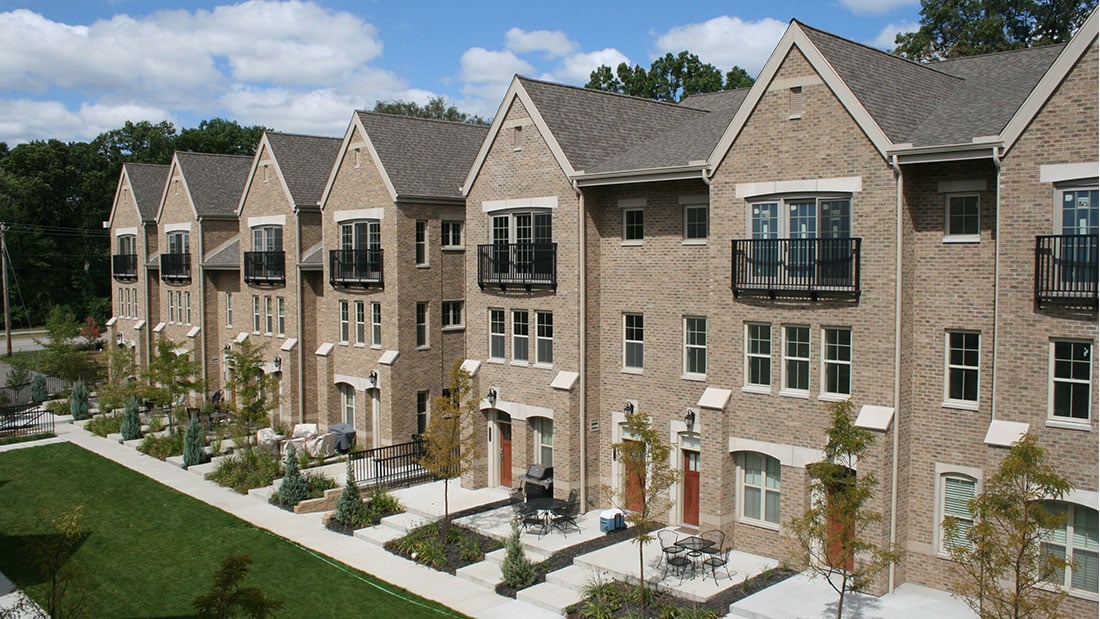 June 27, 2010
Ivy Quad a first and goal for residents
Sunday, June 27th, 2010
Original Source: HomesMichiana.com (powered by South Bend Tribune Classified)
By: Gene Stowe, South Bend Tribune Correspondent
Enough Ivy Quad had risen from the ground for Tim Sutherland to walk among the framing and imagine the outline of rooms that snowy day in March 2009.
Sutherland's son David, who had graduated from Notre Dame in 2007, was returning for a one-year MBA program that summer and the family had decided to buy a vacation condo where he could live.
Developer David Matthews convinced Sutherland that the environmentally friendly, top-quality project in sight of Notre Dame was the answer.
"Literally, in five minutes we picked out everything for the condo except the carpet. I said, 'Get going. I need to make sure he can move in there by date certain.'"
Matthews, who remembers those early days that counted on imagination and trust, says sales are snowballing since finished products stand on the land across Twyckenham Drive from Ivy Field.
"Sales have picked up tremendously," he says. "In the first quarter of this year, we're at twice our sales volume of the first year and a half. That's a 12-fold increase."
"Before, I sat in that trailer with pieces of paper. I was asking them to drop $1 million on a piece of paper and a guy in a trailer. It's so much easier now."
Jim Schwartz who with his wife, Julie, a Notre Dame graduate, is involved with Matthews in the development, says he expects Phase 1 units will sell out this summer, with 18-unit Phase 2 ready to sell by football season.
"Growing up in the area, we just wanted to develop something that everybody could be proud of," Schwartz says. "We put so much attention to detail in this project.
"It's a wonderful piece of property right across from the University of Notre Dame. What makes it so attractive is it's a great piece of property and a great place to live so close, within walking distance, to so many things of interest."
The top three reasons people people buy: location, location, location. Even the architecture echoes the feel of nearby campus buildings.
"Everyone seems to have some Notre Dame connections," Matthews says.
"They may just be subway alums or fans. They like to be around the campus. More mature people like to be around younger people who are active and doing stuff. It's good energy."
In addition to athletic fields and arts venues such as the DeBartolo Performing Arts Center, the homes area an easy walk from restaurants, pharmacies, and a large grocery.
"There's a lot within a couple of blocks to get to," he says. "It's a great spot to walk."
Tom McNeil of Nebraska, the second buyer, sold his first unit and bought the model next door in the year since he first bought into Ivy Quad. His daughter, Liz McNeil, plays Notre Dame soccer, often on the same weekends as football games.
"She lives on campus," he says. "This is just for Mom and Dad to come and watch her and have a place to stay close. We didn't want to stay an hour away. It's kind of nice to have a place where I can walk to the games and fly home Sunday.
"I got online and just started looking at places. It looked like this place was the closest. When we bought it, when I closed on it, it wasn't close to being done yet. I just wanted to be down here for fall soccer, and they got it done."
David Sutherland has graduated from the MBA program, but his parents, Tim and Marti, still use the space for football games and much more.
"I go up there for a number of business meetings with the university," he says. "We'll go up there and maybe play some golf, enjoy the university, go to some basketball games. We're up there more often than you would expect."
Some buyers, such as a professor and a graduate student, live full-time in Ivy Quad, but even those who come occasionally have formed a close community when they're in town.
"That whole first building, people get out, they barbecue, everyone goes into everyone else's condo, check each other's food out," Tim says. "It's absolutely a grand setting. It's so close to the university. It's perfect."