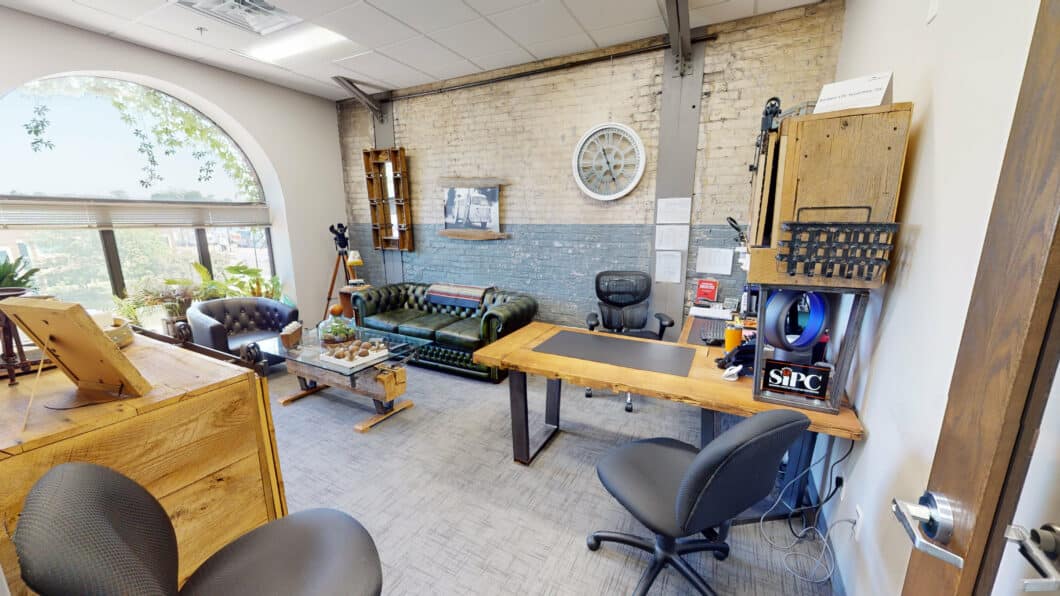 Active
Welcome to Suite 350 in the Commerce Center on the East Race. With an impressive 3,700 square feet of office space, this suite provides a unique blend of historic charm and modern functionality. Exposed steel trusses and an awe-inspiring 36-foot ceiling height highlight the building's heritage while offering a sense of openness and airiness.
The suite itself is well-suited to cater to your business needs with eight private offices, a welcoming reception and waiting area, convenient kitchenette, and a dedicated conference room. An open office area provides ample room for cubicles, creating a collaborative workspace that nurtures productivity and team interaction.
Located in the heart of downtown South Bend's thriving East Bank neighborhood, the Commerce Center is more than an office building. Its first floor houses a dynamic community of businesses including a restaurant incubator food hall, a bustling farmers market, a vibrant jazz club, the Cat Lady Café, a pharmacy, and a full-service pet clinic. The convenience of having these amenities right at your doorstep sets the Commerce Center apart as an ideal location for businesses.
Parking will never be an issue here, as there are over 100 visitor parking spaces in the adjacent surface parking lot. Additionally, garage parking is conveniently available in the neighboring 300 East LaSalle building.
Experience the perfect balance of business and pleasure in Suite 350 at the Commerce Center on the East Race. Come make this piece of South Bend history the future home of your business.
Visit Disclaimer for information on Matthews LLC projects and legal relationships.
| | |
| --- | --- |
| Address: | 401 East Colfax Ave, Suite 277 |
| City: | South Bend |
| State: | IN |
| Zip Code: | 46617 |
| Square Feet: | 3,753 |