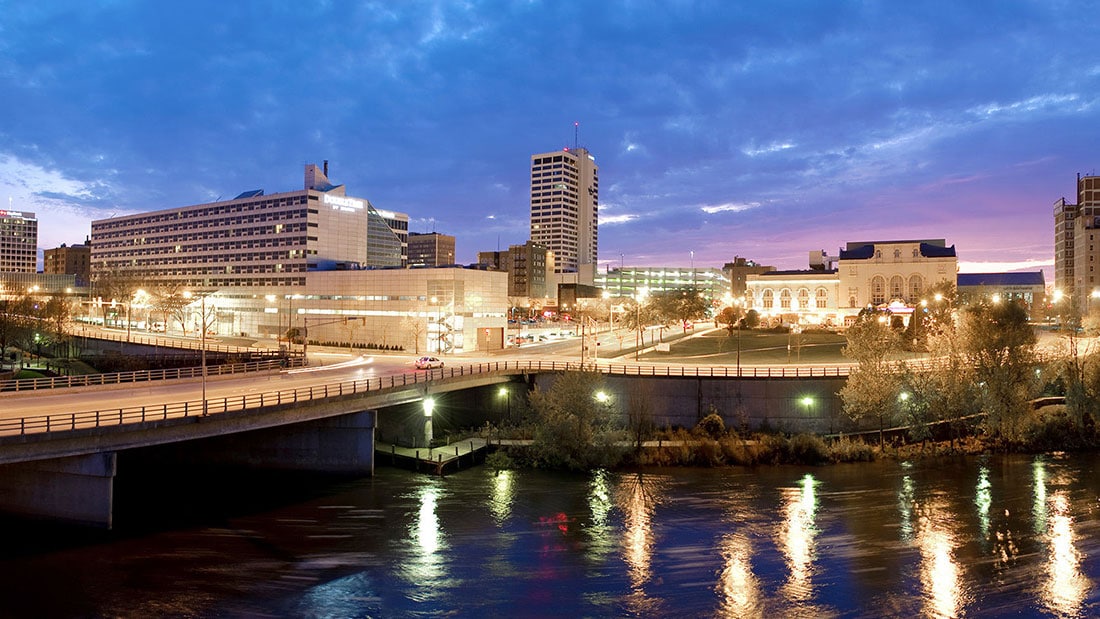 February 11, 2012
Riverside condos showcase downtown
February 11, 2012|South Bend Tribune
By BECKY EMMONS
If they were in a sports arena or a theater, they'd be called the best seats in the house.
As it is, they may be the best "seats" for viewing the stage of South Bend.
East Bank Townhomes provides outstanding views of South Bend's most dramatic (and often underappreciated) feature — the St. Joseph River.
Located on the parcel of land wedged by the river, Colfax Avenue and Sycamore Street, the six condominiums offer commanding views of the Morris Performing Arts Center, the Jon R. Hunt Plaza and green lawn in front of them to the west and, to the south, the pretty Jefferson Street Bridge and rushing water spilling over the dam by the di Suvero sculpture and Century Center.
Those very views were the inspiration for developer David Matthews and his company, Matthews LLC. So taken with the views and location, Matthews bought one of the townhomes for himself. He settled on the unit on the north end and moved in November. The townhome also serves as an auxiliary office from which he can oversee work at the complex.
Sitting at his kitchen island with the flowing water behind him, and his associate, Velvet Canada, concentrating on a computer nearby, he talks of the path that brought him to this point on the river.
A graduate of John Adams High School, Matthews holds bachelor's and master's degrees in industrial engineering from Purdue University, and is finishing a degree in architecture from the University of Notre Dame.
While a student at Purdue, he studied for a year in London, and traveled much of Europe and beyond. His travels — to 36 countries, he now counts — further broadened his appreciation of architecture as well as the development of city residential spaces.
He grins and admits, "I remember as a kid of age 9, I bought a book, 'How to Buy a House with No Money Down.'"
Fast forward 20 years and we find Matthews about to finish the last of the townhomes at the East Bank and looking ahead to breaking ground in the spring for a new, 10-townhome project, River Race, at Jefferson Boulevard and Niles Avenue.
Though not directly on the river, it will offer views of Howard Park with the river in the background and of the river north of the Emporium building. Half of the townhomes, which will sell around the $200,000 range, have been reserved.
His first major undertaking was Ivy Quad, a complex of 64 condos on Ivy Road across from many of Notre Dame's athletic fields. As he explains, it offers a variety of options — from three to seven bedrooms and up to 5,400 square feet. Great views of campus and proximity to nearby shopping, dining and campus activities have made it a success.
That success gave Matthews the incentive to go ahead with East Bank Townhomes.
The city-owned property had been part of a master downtown development plan that called for townhomes to be erected on the site. The property sat for seven years.
Matthews studied it, re-studied it, considered it, scratched his head and re-considered for three of those years.
"One day it just clicked," he says. "I realized it would work if we raised the site — get the building higher to give these unique views of South Bend.
These views are so specific to the St. Joseph River in South Bend, Indiana. The river flows north and from here, we are looking south at the water spilling over the dam and flowing toward us. With the southern exposure, we also get great light."
Twelve hundred truckloads of dirt later, the project was on its way.
"When we raised it, we had potential buyers standing in the back of a pickup truck, trying to explain to them what their view would be," Matthews recalls.
Five of the six stair-stepped townhomes sold quickly; four are occupied, a fifth has been sold and the final one is a few weeks from being finished. Though there's still tweaking to do on his, he's thrilled with his new home and never tires of the tremendous views.
From two walls of kitchen windows he can look west across the river to the beautiful Morris Center and its sloping lawn. He can turn his head and look south to the rapids spilling over the dam.
"And this is just the kitchen! You should see the views from the terrace," Matthews says, speaking of the third-floor rooftop terrace, a feature each townhome has; each terrace has a hot tub.
The floor plans call for living space over four floors, which includes finished basements. The two-car garages share the ground levels with the kitchens, which open onto patios just above river level. Three en suite bedrooms and a laundry room occupy the second floor while the view-laden top floor is the living area/ party space.
Each townhome was constructed with stacked closets that can be converted into private elevators. Buyers who got in early in the construction phase were allowed to pick their own interior finishes, as Matthews has done for his own.
He created the L-shaped, granite-topped kitchen island that he's lined with 10 bar stools.
Adjoining his kitchen is a living room with a two-sided fireplace that separates it from a library accessed through sets of French doors on either side of the fireplace. The loftlike space includes thick wood trim and floors of either oak or slate. Off his extensively windowed bedroom, he has created an office/sitting room. Another flight up is another spacious living space and the rooftop terrace with its amazing views.
"People don't expect to find these views in downtown South Bend," he comments, adding, "I have asked myself why no one thought to do this before. I guess it took some imagination and a great team."
Speaking of the team that came up with the design, he lauds Jeff Helman of Helman Sechrist Architects, Elkhart, and Todd Miller, A.I.A., of South Bend. He's also been assisted by Notre Dame architecture students doing design internships with him — Lauren Eaton, Sylvester Bartos and Chris Whelan.
Immersed as he is in these projects, Matthews says his intent goes beyond personal gain.
"My overall goal is trying to help make South Bend lively and vibrant again, by making spaces where people can live in downtown and have choices to walk to work or to shop or eat. We want more pedestrians on our sidewalks," he says. "I have toured the world but South Bend's my home and I think I can do my part to make it better."
He is interrupted by a construction worker who's finishing work on the East Bank complex.
"Do you know where a snow shovel is?" he asks.
Matthews and Canada exchange glances that say "Oops."
Matthews points up. "There's one up on the terrace."
The man grimaces slightly, rolls his eyes and starts the trek up. He obviously knows the layout well and knows that there is no elevator in this one.
Despite the lack of an elevator, it's a pretty ideal space.
"They turned out even better than I expected," Matthews says, gazing out the windows. "The views are just spectacular."
Original Source: South Bend Tribune